STEM Scholars Compete at State Science Day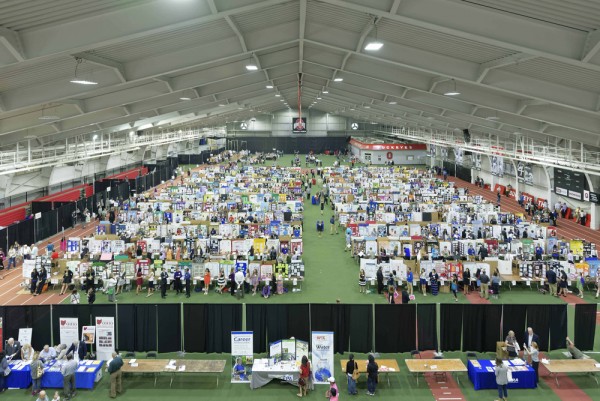 State Science Day offers more than 100 scholarships for K-12 students based on their scientific research and communication skills in science, technology, engineering, and math.
This year, more than 1,100 STEM scholars in more than 320 schools in grades 5-12 across Ohio took home a share of almost $1 million in scholarships and awards. From the 16 district competitions to the state level contest, it was another successful year for the State Science Day partners, school districts in Ohio, and most importantly, the competitors. 
In addition to volunteering and hosting the event, ODEE works with the Ohio Academy of Science to develop new learning programs, providing enriched educational experiences through technology-enhanced classrooms, centralized learning systems and innovative pedagogy through events like State Science Day for middle and high school students throughout the state.
"This event highlights the dedication of the students, and the high priority that Ohio as a state places on STEM-education," said Stephen McConoughey, CEO of the Ohio Academy of Science. "We are thankful for the large number of sponsors that support this event, as well as the over 1,000 judges and volunteers that donate their time each year. Without their help and scientific expertise, this event would not be possible."
At State Science Day
To win a share of the prize money, students presented scientific research through both individual and team projects from a variety of disciplines. The students developed posters to showcase and present on at the event based on a scientific abstract, research plan, and a research report. They then presented their poster to the judges who assessed their research, project, and asked questions in order to test their knowledge in that discipline.
The judges were then tasked to score the presentations. For individual events, two judges scored the presentation on four criteria:
knowledge achieved (considering student age and grade level)
effective use of scientific method or technological design
clarity of expression
originality and creativity
With a maximum score of 40, the students strived to reach 36 of the 40 possible points, or the superior level. Students who earned a superior rating were recognized at the conclusion of the event. Other ratings included excellent which ranged from 24-35 points, good 12-23 points, and satisfactory 4-11 points.
The team presentations were scored on the same four criteria listed above, with the addition of teamwork as a fifth. The team presentations were scored on with the additional criteria added making the maximum score 50 points. To reach the superior level in the team competition, the students needed to score at least 45 of the possible 50 points. To round out the rest of the judging levels excellent ranged from 30-44 points, good 15-29 points, and satisfactory 5-14 points in the competition.
The Results
Eleven schools earned the Harold C. Shaw Memorial Outstanding School Award for their exemplary performance. In order to receive this honor, the following 11 schools had at least four students receive a superior rating or had more than four team projects with 80 percent of the students receiving a superior rating and no good ratings.
Pettisville High School – Pettisville
St. Vincent de Paul School – Mt. Vernon
Mentor High School – Mentor
Paulding High School – Paulding
Dublin Coffman High School – Dublin
St. Agatha Catholic School – Columbus
Upper Arlington High School – Upper Arlington
St. Columban School – Loveland
Sycamore High School – Cincinnati
William Mason High School – Mason
Zane Trace High School – Chillicothe 
In addition, a number of students were honored for their individual commitments and performances at the event. As we've wrapped up another great school year for STEM scholars, learn more about the Ohio Academy of Science.