A Head Start for International Students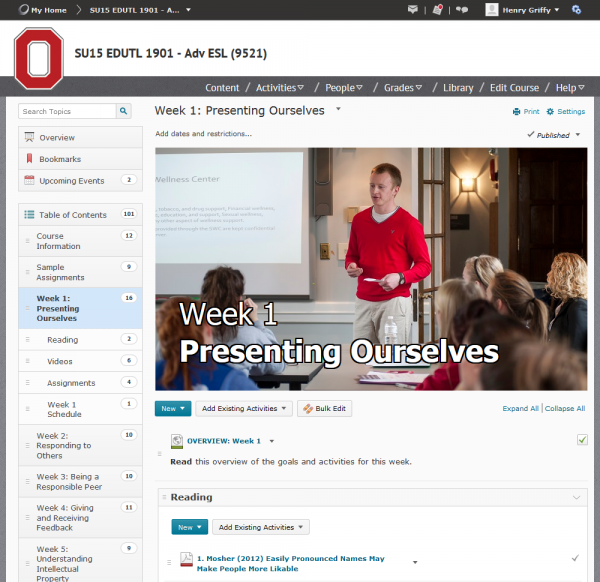 With the opportunity to be a land-grant university for the world, international students play a critical role in Ohio State's success. To be successful, educating these students must be done well, and in a way that bridges the language and culture gap in the U.S. Leading the charge to provide this high quality education to international students are Karen Macbeth and Ivan Stefano in the College of Education and Human Ecology at Ohio State. They developed an online english as a second language course for international students to get a head start on their Ohio State education. 
Before arriving to campus, international students are required to take placement tests to determine whether or not they need to complete prerequisite course(s) prior to studying their major at Ohio State. Given the diverse backgrounds of these students, specific prerequisites are important and Macbeth and Stefano are providing them the opportunity to complete their Ohio State courses before they arrive.
Although important, the time and money required to complete these prerequisite courses can set international students back a semester, or even two. Macbeth and Stefano teach EDUTL 1901 – English as a Second Language (ESL), which is one of the required prerequisite courses for many international students who don't speak English at a proficient university level.
"Being able to take this course in the summer before they arrive on campus will allow international students to take the next course, EDUTL 1902 and then complete their first-year writing requirement, English 1110, in their first year," said Bob Eckhart, Executive Director of ESL Programs. "This is incredibly important because 1110 is a prereq for so many other courses and completing it in a timely fashion ensures that international students keep up with domestic students in terms of progress toward their degree." 
To make this possible, Macbeth and Stefano received an Impact Grant from ODEE to create a partnership and develop EDUTL 1901 online. After a full year of development and two pilot courses, the first fully online version offered to international students launched for the first time on Monday, June 15. 
"We were excited to partner with ESL to develop this course and offer our newly admitted Buckeyes access to this opportunity as well as saving them money in the long run," said Henry Griffy, ODEE Grants Coordinator. "After two hugely successful pilots last Spring, we're thrilled for Karen and ESL to offer this opportunity to students." 
Offering EDUTL 1901 for free, in the summer term is unique to Ohio State as it's the first course of its kind in higher education. By taking this course, international students will get a taste of the rigor and cultural challenges they will experience when they arrive in Columbus.
"We saw an area where we could improve both our program, and our students' experience," said Macbeth. "EDUTL 1901 online provides international students an accessible and affordable option to get a head start on their Ohio State education while enhancing their overall experience with our university."