Redesigned Course Earns Top Marks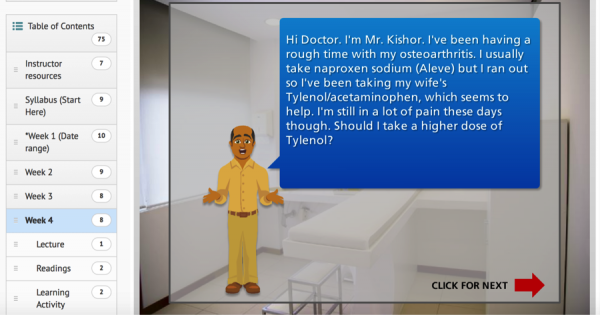 Evaluating true success is a challenge. The first point of assessment is frequently a rating on a standardized scale. Too often, success is hard to articulate from a simple number. When quality experiences translate to quantitative data the results are undeniable. One of our faculty partners saw a dramatic increase in student evaluation scores after a course redesign with ODEE.
Crystal Dunlevy teaches 5510 Pharmacological Aspects of Practice in Health and Rehabilitation Sciences (HRS 5510) 100 percent online. The course covers the fundamentals of pharmacodynamics, drug law, selected medications and treatment methods utilized by allied health professionals.
"With HRS 5510, initially I was concerned about the dry nature of the course content," confided Dunlevy.
Professor Dunlevy worked with ODEE instructional designer, Jessica Phillips to orchestrate a complete redesign of the course. Their mission was to make the information exciting and interactive.
"After working together with Jessica, we found ways to help students engage with the course on a deep level by presenting stories through interactive scenarios we called Minute Clinics," said Dunlevy.
These story-based learning activities gave students a chance to translate what they learned in the course to real world application. Simulated scenarios lead students to make decisions that have significant impact in the workplace. These simulations offer a safe space to practice decision-making without the serious implications of making mistakes in real pharmacology practice.
"I noticed an increase in engagement in the discussions," said Dunlevy. "I even noticed students using the names of characters we'd created for story-based learning in their assignments."
At the end of the semester, students complete a Student Evaluation of Instruction (SEI). SEIs are standardized surveys that collect student feedback on the quality of instruction. The evaluation measures indicators such as instructor organization, intellectual stimulation, and whether or not the course encouraged independent thinking.
After the course redesign, the SEI rating for HRS 5510 came in at 4.8 on a five-point scale. This was a 1.6 point increase from the pre-redesign score.
"This makes me ecstatic because students were able to connect with their instructor," said instructional designer, Jessica Phillips. "They grasped a sense of who she is as an educator even though they never met her in person."
ODEE is here to support and advance the university mission of quality teaching and learning. Faculty are passionate about their content areas and driven to share that passion with students to empower the next generation of researchers, educators and employees. Complementing faculty vitality with instructional designer expertise in packaging courses and providing support results in exceptional courses.
"These evaluation numbers are showing early success of active partnerships and open collaboration," said Rob Griffiths Senior Director of Digital Scholarship and Development. "I'm excited to see the institution turn the corner from building the necessary infrastructure to support and evaluate distance education initiatives to actually seeing the benefits from the strong partnerships."
Academic units are invited to partner with ODEE to create quality online programs. Contact our distance education team to get started.