Top Hat: A Student Intro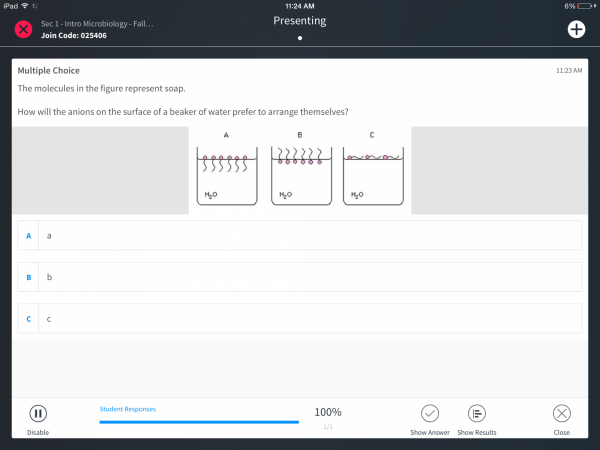 If you've ever had to buy a clicker, spent half a class tracking down an attendance sheet, or started your quiz last after the copies ran out, you are going to love Top Hat. If you've never done any of those things, don't worry, you will love it too.
Top Hat is a tool instructors will use to interact with you during class. They'll show a prompt on screen and you'll respond with whatever device you have on you: a laptop if that's how you take notes, through the mobile app if you travel light, even text (SMS) if your connectivity is slow or you rock a minimalist phone*.
Your lecturer might use Top Hat to see if everyone has grasped a concept by popping up a multiple choice question instead of the old way: asking "any questions?" It offers you some privacy, because let's face it, some of us feel a little awkward raising our hand when we have a question, as if we're "slowing down the class for everyone." The truth is, if you need some clarification, someone else does too. Top Hat can help make sure everyone is on track, without making anyone out to be that guy.
It's linked to the Carmen grade book, too. So teachers can track your attendance through the tool or even administer a pop quiz for a few points of credit. Don't worry--they'll tell you when they are checking your understanding versus taking a grade. Go to class and show up prepared, just like you would normally.
For those new to campus, students used to buy clickers--little plastic devices that submitted answers wirelessly--to participate in this kind of activity. Top Hat saves you from buying a clicker, and the inevitable stress from forgetting to bring it to class. It offers a much more beautiful interface that's intuitive for you, and robust features that allow instructors to ask different kinds of questions with a variety of response types. It's a big step up from clickers, which only offered multiple choice Q&A. We're very excited to offer you this new solution, and are here to help you get familiar with the tool.
To learn more, check out Top Hat's student orientation. Ignore the Payment tab though; we've already got your subscription covered.[accordion collapsed]
*Don't have any of these devices?
A clicker costs around $40. There are phones you can purchase for less, with much more functionality than a few buttons for in-class response.
Try Amazon for shopping online: look for something in your price point with a 4 or more star rating.
If you're looking to buy in-person, there is a Radio Shack and a T-Mobile store on High St, across the street from campus.
The most affordable phones are offered without contracts. These are called 'pre-pay' phones, as a typical phone user would purchase packages of airtime, texts and/or data to use the carrier's mobile network. If you aren't interested in these uses, you can simply get the pre-pay phone, without the package of airtime and data. As long as the phone can connect to a wifi network, you'll be able to use the phone on the osuwireless network in your classroom. From there you can access the Top Hat site or mobile app and answer your instructor's prompts.
ODEE does not endorse any product or vendor. These are simply guidelines to easy solutions for students who need to purchase a device to interact with the Top Hat student response service.
[/accordion]