SARA Expands Reach for Online Programs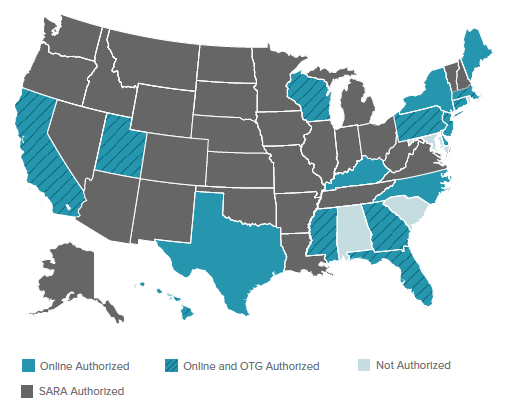 Ohio State is officially a SARA member. Translation? More opportunity for our online programs to reach students outside of Ohio. Less risk due to state authorization regulations. Fewer fees to offer our programs nationally.
The State Authorization Reciprocity Agreement, also known as SARA, is an agreement establishing national standards for interstate offerings of postsecondary distance education. The agreement makes it easier for students to take online courses offered by schools based in another state. SARA gives Ohio State the ability to advertise online programs, recruit students, and house faculty in other member states.
"This is an exciting time for ODEE. SARA membership allows us to broaden access Ohio State online programs to students across the country," said Robert Griffiths, Senior Director of Digital Scholarship & Development.
As members of SARA, Ohio State is authorized to offer online courses in each state that is part of the agreement without having to get approval from each state individually. There are currently 29 states participating in SARA.  This agreement also covers on-the-ground activities that occur outside of Ohio's borders, which will dramatically help with Ohio State's state authorization efforts. On-the-ground activities are experiential learning experiences that take place outside of Ohio for students who take traditional classes on Ohio State's campus. For example, the College of Medicine will offer coursework at Ohio State, then a student can be placed at a medical facility in Kentucky for field experience credit. As long as programs place less than ten students in a program within a SARA state, these activities are covered as well.
"By joining SARA, we are reducing the amounts of applications that need completed, in turn, reducing the need for exorbitant funding and resources," said Leslie Weibush, State Authorization Program Manager. "  "We are also complying with state regulations, which in turn, reduces our compliance risk.  By making a good faith effort, Ohio State is setting a great example for other similar institutions.  State authorization is not going away, and it is possible for large institutions to comply with these rules and regulations."
SARA participation doesn't replace state authorization, but centralizes it in an institution's home state. Approval is still required from state professional licensing boards, as SARA does not cover programs that lead to licensure. Further, additional approval is required should a program wish to place more than 10 students within a SARA state. 
The SARA agreements are being implemented by the four regional higher education interstate compacts: the Midwestern Higher Education Compact, the New England Board of Higher Education, the Southern Regional Education Board and the Western Interstate Commission for Higher Education.