Student Tech Forum Nov 18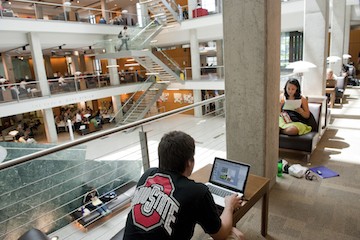 Students! Join us Nov 18, 5 - 6 p.m. for a free dinner and casual gathering to discuss technology at Ohio State.
Early adopters and tech-no-phobes alike are welcome. We're looking for all types of tech users to give us feedback. This is your chance to meet with the people who make decisions about wireless internet on campus, the Carmen learning management system, online classes at Ohio State, and more.
We'll be giving out door prizes, pizza and refreshments at Tech Hub in exchange for your time and opinions. Prizes up for grabs include an iPad Mini 4 and SkullCandy Aviator headphones.
The Office of the Chief Information Officer and Office of Distance Education and eLearning are committed to using your feedback to make decisions around technology services at Ohio State. Bring a friend and have your voices heard.