New Classroom Added to Innovative Spaces Program for Fall 2016
Are you looking for ways to engage your students in the classroom? Would you like your class to be more interactive?
The Faculty Innovation Center in Campbell 100, our newest and largest Active Learning Classroom, is set to open in Autumn 2016. With a seat capacity of 65, this space will be equipped with moveable furniture, whiteboards, projectors and monitors, all of which will help create a more collaborative environment. In addition, there will be private breakout rooms that allow for small group exercises.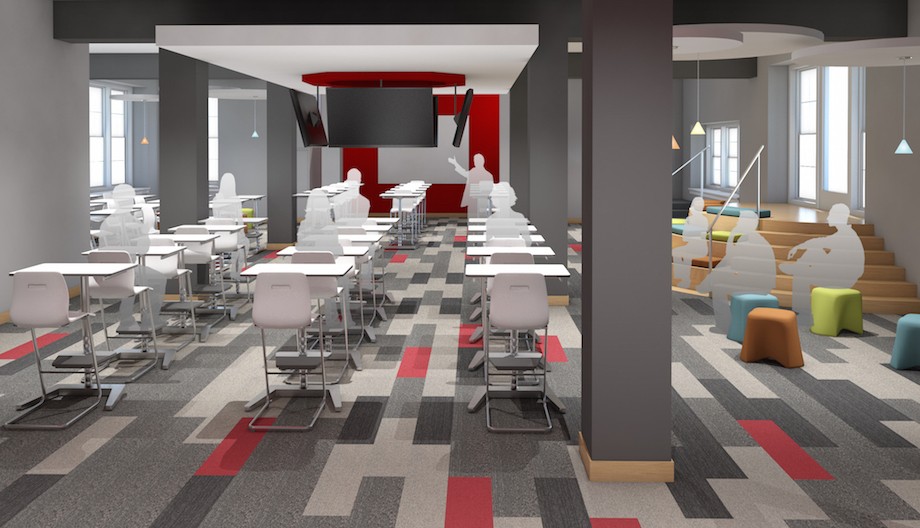 Concept drawing of Campbell 100 Faculty Innovation Center. 
The FIC is now available to reserve for fall 2016 courses, through our Innovative Spaces Program. The Innovative Spaces Program is a collaboration between ODEE, Office of the University Registrar and University Center for the Advancement of Teaching (UCAT) that fosters transformational teaching and learning campus-wide. Faculty accepted into this program receive a suite of support, priority scheduling, training and other professional development opportunities through ODEE and UCAT.
If you are interested in teaching in the FIC or one of our other innovative spaces next fall, the deadline to apply is Jan. 8, 2016.