ODEE Given Elite Apple Honor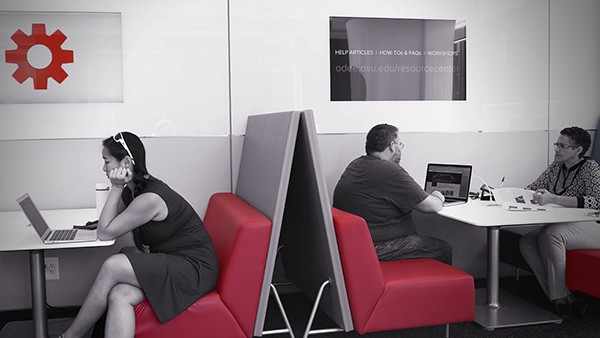 Start with an infrastructure that lets the technology work. Continue by rethinking the way courses are taught to ensure student engagement and success. Look ahead and find innovative solutions that drive down costs and increase access to future Buckeyes here and around the world. For these reasons and the people that make them possible, ODEE has been recognized as an Apple Distinguished Program. 
"It is very nice to be recognized on a global scale by Apple for all of the hard work and dedication shown by staff throughout ODEE," said Cory Tressler, Associate Director of Learning Programs. "This is very much a team award. Faculty, staff and students throughout the Ohio State community are doing amazing work and are making Ohio State a leader in eLearning. Being recognized with other incredible programs throughout the world is a true honor and speaks to the dedication of the university to create a world class teaching and learning experience." 
JUST A FEW OF OUR ACCOMPLISHMENTS
Over the last five years we have taken iPad technology into the classroom and across the field. We have answered the call of Ohio State's land grant mission by providing open public content in Coursera and iTunes U. We have taught the young and the "not as young as they used to be" through College Ready Ohio and Program 60. And last but not least, we have pushed the envelope for what a learning environment looks like at Ohio State, incorporating technology and flexibility into spaces across campus.
Want to know more about the great work happening in ODEE? Download Inspiring Innovation: The story of Teaching and Learning Technology at Ohio State, available in the Ohio State Digital Bookstore.