Student Employee by Day, App Developer by Night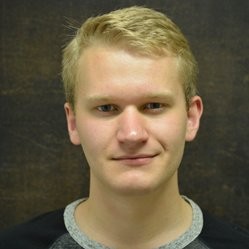 There are several features inside Digital Unions that set them apart from traditional computer labs across campus. DUs offer creative software, recording studios and unique printing services.
One of the biggest advantages of stopping inside a DU is the student who supports the lab. These student employees help visitors make the most of what the DU equipment and software have the offer.
Nathan Gammella, an Ohio State student continuing education after completing an undergraduate degree in architecture, is one of those student employees. Gammella works primarily at the Stillman Hall DU. When he's not providing assistance to visitors at the DU, Gammella is busy running his own app development company.
We asked him a few questions about working at the DU and running his business.  
What is your favorite part of working in the DU?
Working at the DU provides a unique experience where I get to continue to train the skills I love to use everyday, and share what I've learned as tips to the students and faculty who visit the labs.
What is one thing you wish more students knew about the DU? 
I wish the students knew more about all the software available to them at the DU and how it can be utilized for school projects or perhaps to create the basis of an iOS application. The Adobe Suite, Final Cut Pro, and more are all available to be used for free. Professionals use these products daily, and as a result the DU is the penultimate stop for creative Buckeyes. 
Tell us about your mobile app development company.
Little Tank Apps, LLC is an iOS app development company that I and my best friend, and fellow Buckeye, Bobby Rohweder created in our junior year at Ohio State. We primarily focus on games, and our newest is "Pocket Swipe," which is available for free on the App Store. The company was founded when we released our first app "Squares: Matching with a Twist," which was our first collaboration on an application. With each game, we strive to create new and fun experiences that focus on the user/player as well as better our skills as collaborators and creative people.
Has working at the DU helped you with your app development company? If so, how?
Working at the DU puts an employee at an interested intersection of knowledge and learning. It's not just about knowing the relevant software the applies to being a graphic designer (Adobe Illustrator, Photoshop, etc.), but also continually learning to provide guidance to students and faculty when my knowledge is limited. As an employee of the DU, I am looking for the best answer to questions I might not have otherwise thought to ask. Each new question helps to develop new ways of thinking and problem solving.
What advice do you have for other students looking to create mobile apps?
When creating a mobile app (or any application) it is important to know a few things. The first of which is teamwork. In almost any instance, two heads (or more) are better than one. It allows you to attack a problem from multiple angles and see perspectives that you might have otherwise been blind to. With teamwork comes collaboration. And by that I refer to not simply working together, but working toward a unified goal. When you work toward a unified goal, criticism is not personal, and each person focuses on the unique set of skills he or she can bring to the group. Lastly is to never stop challenging yourself. This may seem cliché, but I do not throw this phrase around carelessly. Challenging yourself is about respecting an iterative process in which each step is indeed tougher than the last, but is not about biting off more than you and your group can chew. Through an iterative process you can learn from each success, and more importantly each failure, each consecutive app you create will be the better for it.
What resources can students take advantage of at the DUs if they want to explore software development on their own?
Earlier I spoke about the DU's software library, and I wanted to let students know that we also have an option for those who are unfamiliar with the products. If you feel like these programs are appealing, but out of your knowledge base consider that you can learn any software through the free Lynda.com access available at any DU. So if you would like to get started today on your own school project or application just ask your DU staff to sign you up for Lynda.com and you will be creating in no time!
Follow @DigitalUnionOSU for more information on DUs across campus.