Students Utilize Digital Unions to Create Podcast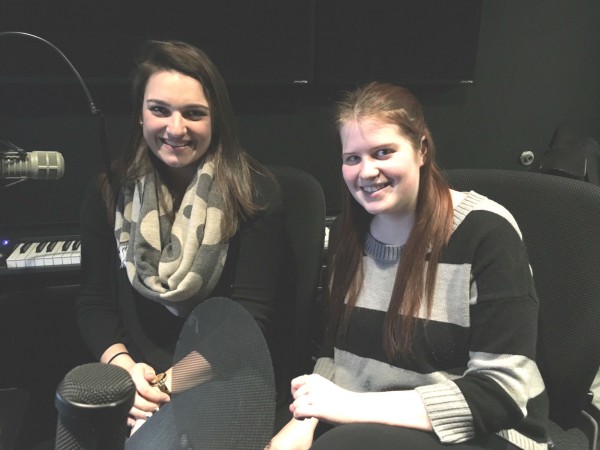 Have you ever wanted to start your own podcast? In fall 2015, Sarah Hearon and Laura Cardi, undergraduate students majoring in communications at Ohio State, had just this thought.
"We listen to a lot of podcasts and thought they were fun," Hearon, a third year student, said. "Most of them are about TV shows and pop culture. After being avid podcast listeners for awhile, we thought we could bring our own voice to podcast."
There was one problem: they didn't know where to start. Cardi had heard about the Digital Unions while taking a visual communications course and again when she interned with Ohio State's First Year Experience office. 
"I stopped by one of the DUs and started asking the student employee questions about making a podcast," Cardi, a fourth year student said. "It turned out that they had everything we needed."
Both the Prior Hall and Denney Hall DUs have audio studios. The audio studio is a dedicated quiet room, equipped with tools that facilitate the recording and editing of audio files. Each space features unique tools, but builds on the basic setup of a microphone(s), capture and edit software, and playback capabilities. 
"We could buy microphones, sit in our room and record our podcast," Hearon said. "However, the quality would not be the same as when we record in the Prior Hall studio." 
After recording their audio, they quickly realized editing the podcast and making it live was a complex process. 
"The software and student employees at the DUs have really made our podcast possible," Cardi said. "We weren't familiar with SoundCloud or GarageBand, but we needed these applications to make our podcast live. One of the student employees helped us, but the best part was that he didn't do it for us, he actually taught us how to use the software."
Hearon and Cardi's podcast is called "We Love the 2000s." They discuss TV shows, pop culture and movies that happened between 2000-2009. They attempt to give each episode context by tying back to celebrity couples, music or sports of the time. When possible, they pick topics based on current events, like the recent announcement of the Big Fat Greek Wedding sequel. 
"We have learned so much by starting our podcast and it has helped us both put ourselves out there," Hearon said. "We wouldn't have a podcast if it weren't for the DU. Our advice to students is that if you want to do anything tech related just go to the DU and ask questions. Chances are they can either help you themselves or point you in the right direction."
Interested in completing your big technology idea? Check out how the unique features available across our five DUs can help.