Four Reasons to Try Lightboard Lecturing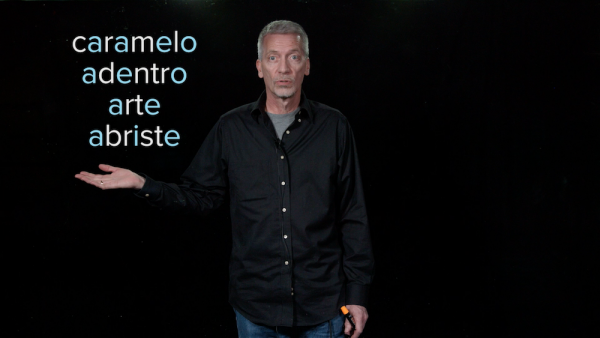 An instructional lightboard is the newest teaching technology to join our Denney DU artillery. In addition to looking really cool, there are several opportunities the lightboard provides as a delivery platform for your lessons:
A Personal Feel in an Online Platform
If you're delivering a fully online course, the lightboard gives you an opportunity to lecture in a way that feels more natural, as Stéphane Lavertu described in our first lightboard lecture story. If you're already used to writing on a chalkboard, you can retain your teaching style, making you more comfortable for the recording.
Enhancing Flipped Lessons
Dr. Terrell Morgan, Professor in Spanish and Portuguese, used the lightboard as one element for flipping his Spanish 3404 course. An Impact Grant from ODEE helped Morgan introduce a rich learning toolset, including the lightboard lecture recordings, for students to study and practice on their own time.
"It allows us to move much more quickly when we get to class because the students are all ready to practice or dive deeper into the topic," Morgan said.
Curing Camera Shyness
Okay, it might be more treatment than cure, but the lightboard physically sits between you and the camera. Before using the lightboard, Morgan tried podcasts and video lessons speaking directly to the camera. He, like the majority of instructors who record themselves, did not like what he saw. His discomfort was apparent and he knew there had to be a better way. With some encouragement, he tried the lightboard and was much less distracted by the presence of the camera.
"I'm glad I tried other technology before using the lightboard," Morgan said, "because I could see how much better these videos turned out."
Teaching in Multiple Media Forms
We all know the benefits of offering multiple ways for students to learn and understand educational content. The lightboard is great for hand written notes, but you can also superimpose graphics or charts to illustrate a concept.
"I wrote on the board but left part of it unused," Morgan said, "so that after the recording we could add visual representations of linguistic structures and examples on the blank part of the screen."
Do you want to use the lightboard to record your next lecture? Call (614) 292-4768 to reserve the Denney Hall DU recording studio. The staff on site will set you up for video victory.