SARA News - Participation Continues to Grow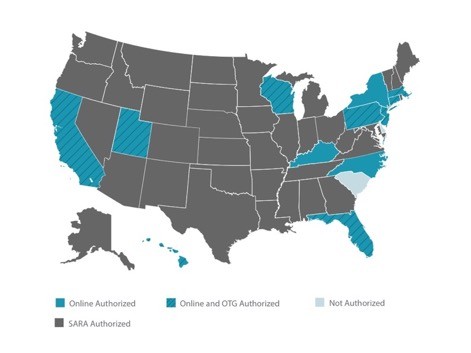 The State Authorization Reciprocity Agreement (SARA) began accepting member states in January, 2014. Ohio was the 20th state to join SARA in March, 2015. In the two years since its creation, SARA participation has grown to 36 states. Ohio State was approved as a SARA institution in September, 2015 - this means the University can provide online programs to students in participating states without completing a separate application process in each state.
Increased SARA participation means more locations across the U.S. where Ohio State can offer distance education, but SARA doesn't only apply to online students. SARA also allows for the placement of students in field experiences, such as an internship or practicum, that takes place outside Ohio. Out-of-state placements may include students enrolled in online programs or in traditional programs.
For example, a Nursing student taking classes on Ohio State's Columbus campus could be placed at a medical facility in Indiana for field experience credit. SARA allows placement of up to ten students per placement site.
Increased participation in SARA greatly streamlines the state authorization process, but approval is still required from state professional licensing boards for some programs. Students are urged to reach out to their state professional licensing board if they have any questions about Ohio State's approval status in another state. 
Participation in SARA means that Ohio State must annually report enrollment data for students who reside in another state. Reporting guidelines are currently being finalized by the National Council for SARA - the first reporting period is scheduled to take place in May, 2016.
For more information about SARA or state authorization, please contact the state authorization team.