ID Experience: Carolynn Thomas Jones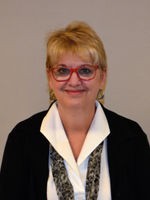 Blueprint system. eBooks. CarmenConnect. An instructional designer. What do these all have in common? These are a few of the valuable resources available to faculty looking to develop a successful online course.
Carolynn Thomas Jones, DNP, MSPH, RN, the lead instructor of the Master of Applied Clinical and Preclinical Research (MACPR) program, worked with ODEE on new course development. Since the MACPR program launch in autumn 2014, Jones has developed eight courses, some of which have undergone an overhaul in content already. Jones shared with ODEE a few of the resources that were most valuable to her when developing and executing an online course:
Blueprint Document
The Blueprint document is everything that is built in a Carmen course in a paper document format. This format allows for instructors to map out their courses before diving into the technology side. The document plans out course content by week or module and links course objectives to content. Jones was impressed with the Blueprint document and found it helpful as a model. 
"I could not have created new courses... if I did not have the Blueprint as a guide," Jones said.
Individualized Support
While working on her course development, Jones received one-on-one support from our Instructional Designer, Timothy Lombardo.
"I appreciated the great team of people I worked with, especially Timothy Lombardo," Jones said. "I was supported to use my own specific model for creating courses, which was somewhat different, and I think responsive to graduate student needs." 
This involved using a Module approach rather than a "Weekly" approach – which worked well with adult learners in the MACPR program. While working with ODEE, she was also able to learn even more about Quality Matters, design standards for online and hybrid courses, and Universal Design for Learning requirements. This knowledge made her feel more confident while developing courses.
Library and eBooks Access
When developing an online course, instructors are able to create permanent links to library content such as research articles and eBooks. This means the link never changes, so it does not need to be updated on a semester basis. 
Jones took advantage of being able to upload document links via the library, which she felt was paramount to a clinical research course. Plus, she was able to save students money by discovering eBooks that could be used in her courses. 
CarmenConnect
CarmenConnect is a fully featured online classroom. This tool is essential to a 100% online course as it offers video, audio and chat services, document and screen sharing capability, and breakout screens for small group work. In addition, instructors are able to record sessions facilitating an asynchronous learning approach. Jones was able to use this tool to provide a more seamless online learning experience for her students.
Are you ready to take your next course online? Check out the support we offer for online course development.