Denney Video Studio is Getting a Makeover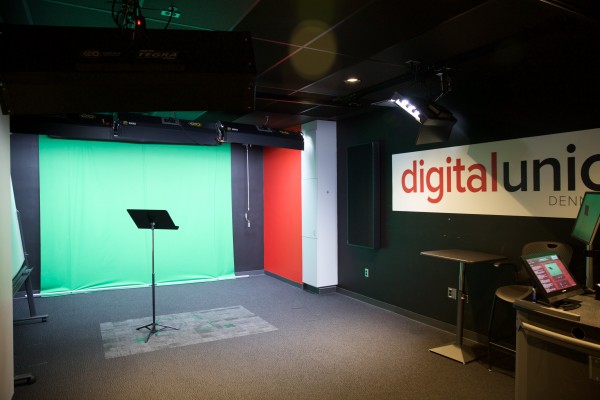 Lights. Camera. Action! The Denney Digital Union is getting ready for its close up, with a video studio renovation. The updates, slated to finish in August, will feature the best of both worlds:  a new interface that's more intuitive for those who just want to click record and go, along with  extra video controls for more complex projects.
"The updates in our Denney Hall video studio will not only make the recording process easier for new users but also more functional for highly technical users" said Queenie Chow, Digital Union Manager. "We are excited to have it all come together as autumn semester starts."
One Click Video
One of the most anticipated updates is the simplified video recording setup. This allows you to record high quality video without any production experience. You simply enter the studio, plug in your flash drive and touch one button to start shooting.  When you finish recording, your video file will load onto your flash drive automatically.
Tailored Audio
The new studio will also have increased audio capabilities allowing for more tailored sound. You will be able to adjust mic sensitivity to accommodate different voices. The ability to connect an auxillary mic will make your musical instruments sound clearer and more dynamic than recording from a general purpose mic.
Video Personalization
In dynamic videography, three cameras is better than one. The multicam option will allow users to record 1080p video from three different angles, creating a world of new options in post-production. With the new picture-in-picture recording mode, instructors can deliver a lesson alongside their slides, making for a more engaging lecture capture video. Finally, the new live Chromakey option will allow users to embrace their inner weatherman. Project any image onto the green screen as your backdrop, meteorological or otherwise.
The Denney video studio will be closed through mid-August as the updates are finished. In the meantime, check out the other recording options around campus, stay updated on Twitter and reserve your spot at the studio.