Workshops Simplify Canvas Course Transition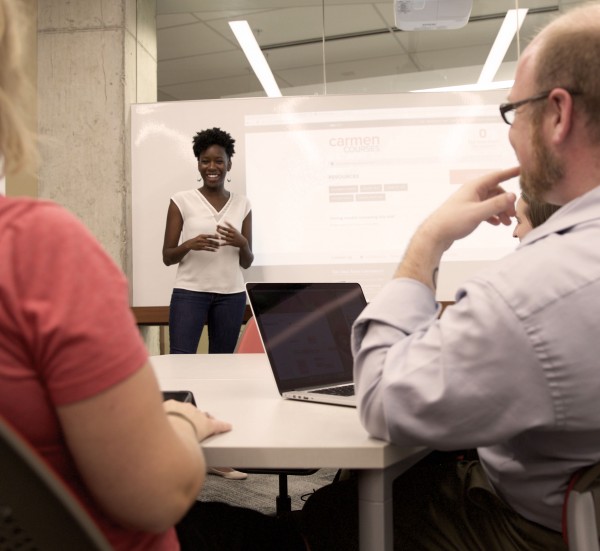 Time to get excited: Carmen is about to get some major improvements. The Ohio State University is adopting Canvas as the new learning management system (LMS) inside Carmen. This means Canvas will now include new features, like SpeedGrader and course modules, to help you make the most of Carmen in your classroom.
If you are excited about Canvas but aren't quite sure where to start, our workshops can help. Whether you're familiar with Canvas or just getting started, we have a variety of workshops to help you build and hone your skills in our new LMS and prepare for the fall semester.
Get familiar with the tools coming to Carmen this semester by attending one of our upcoming workshops:
Start in Canvas (Hands-On)
Tue, 8/02/2016 | 1:30 -3:00 p.m. | Hagerty Hall 186
Thu, 8/04/2016 | 9:00 -10:30 p.m. | Derby Hall 029
Tue, 8/16/2016 | 2:00 PM - 3:30 PM | Hagerty Hall  186
This 60-minute hands-on session will walk you through the initial stages of building your course in Carmen (Canvas). After the session, the Carmen team will be available to answer your questions. Learn more about this session and sign up for a Start in Canvas session by visiting our events page.
BYOD: Strategies for Adapting D2L to Canvas
Fri, 8/5/2016 | 9:00 AM - 10:30 AM | Baker Systems Engineering 285
Fri, 8/12/2016 | 1:00pm–2:30pm |Stillman Hall 135
More familiar with Canvas? This is the session for you. At this bring your own device, hands-on session, the Carmen team will talk you through the initial stages of migrating your course within Carmen from D2L to Canvas. You will learn what to migrate and what to leave behind, gain exposure to resources available to assist in the transition, and access to experts to assist you with your migration. Finish out the session with open studio time and work on transitioning your content.
Assessments and Grading in Carmen (Canvas)
Mon, 8/15/2016| 1:00 PM - 2:30 PM | Hagerty Hall  186
During this interactive session, the Carmen team will show you how to set up grading and rubrics, and how to use the SpeedGrader app. The eLearning Support Team will remain on site to answer any questions you have.
For a full list of workshops, visit our workshops calendar. See you there!