Library Link Available in Carmen (Canvas) Courses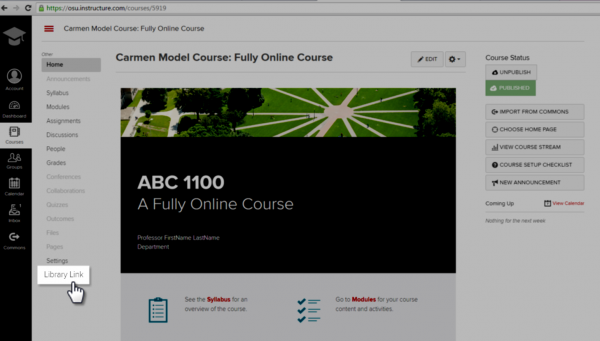 If you are working with a Carmen course using the Canvas LMS, you'll notice a link on the left side navigation called "Library Link". Clicking this link will connect you to relevant materials for your college, department or regional campus provided by University Libraries.
For those who didn't know, something quite wonderful happens when you partner directly with a subject librarian: the Library Link functionality provides access to resources tailored to your specific course assignments and topics. Subject librarians can help instructors find relevant open source materials to promote affordability; connect faculty and students to hidden-gem library resources and experts; and aid in assignment design.
Meris Mandernach, head of Research Services, added, "Librarians see assignments in many different courses and can support instructors in meeting learning goals for students and in overcoming common student problems."
Overall, a connection with your subject librarian allows you to take full advantage of Library Link for your courses to make library resources more available for your students. To set up a beneficial partnership with University Libraries, contact a subject librarian.