Top 5 Ways to Use the Digital Union This Semester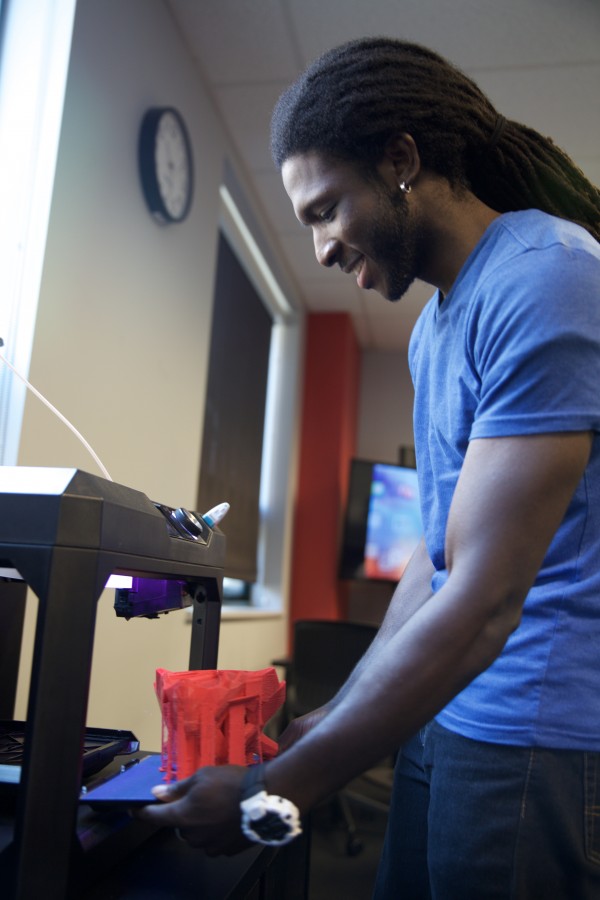 Syllabus week has come and gone, and you may be wondering what you are going to do with the pile of projects on your plate. Do you need to create a magazine layout but don't have InDesign on your laptop? Need a meeting space to finish up your group project? The Digital Union (DU) is a great resource to help you succeed this semester.
We have compiled a list of the top 5 things you should do in the Digital Union this semester; check it out:
Get Creative with the Adobe Suite- All DU computers are loaded up with high-end software that you can use for school or personal projects. One of our most popular offerings is the Adobe Suite, which includes Illustrator, InDesign, and Photoshop. Whether you are looking to create a magazine layout for your journalism course or alter a group photo for your student org's webpage, we can assist you.
Learn Something New With Lynda.com- Lynda is an awesome opportunity to teach yourself something new, or brush up on things you have already learned. Whether you are coming back to school and feel a little rusty with your Java skills, or know nothing about social media marketing and want to learn; Lynda can help. These free tutorials are available on all DU computers as well as on demand through the Columbus Library (we will help you set up an account).
Collaborate with Group Meeting Rooms- Expand your meeting options beyond Thompson. With five locations around campus, DU collaboration spaces are a great option for group projects. The spaces feature seating around a shared display, designed to facilitate collaboration. Display inputs include HDMI and VGA (with audio) controlled by a touch-panel interface. All rooms provide power and some accept wireless display access.
"Our conference rooms and study spaces in Prior, Hagerty, and Enarson are hidden gems on campus. Not only are they quiet study spots, but they are also great collaboration spaces for group work and projects. The best part: you can reserve the rooms in advance!" Said DU team member Monica Nameth  
Build it with Free 3-D printing- The Digital Union is the only department at OSU offering 3-D printing to all students, staff, and faculty regardless of departmental affiliation for free. On Friday of each week, approximately 10 submissions are selected to be printed the following week. If you are new to 3-D printing, don't worry we have plenty of resources on our page to help you turn your idea into (printed) reality. Check out some past projects for inspiration.
"I've seen everything from replica brains to model airplanes to DNA models and about everything in-between 3D printed" Said student Andrew Randazzo. "3-D printing at the Stillman Hall Digital Union is a resource more people should know about."
Record like a Pro in our Audio Studios- Whether you are an audio recording pro or just learning, we have a studio to suit your needs. With microphones, sound-insulated rooms, and audio editing software both our easy and professional recording studios can help you make quality recordings for audition tapes, podcasts, and music projects. The Denney Hall studio is ideal for guests with advanced needs such as multitrack recording, microphones for a variety of instrument types, and advanced editing software. The Prior Hall studio, also known as the Whisper Room, is best for guests making a simple, voiceover recording. Beginners are welcome at both studios, and our staff will help with the recording process.
Want to learn more? Learn about locations, hours and features on our webpage, and be sure to come visit this semester.