"TechniCity" Open Course Pivots Online Learner's Career Path
Every year, thousands follow their individual path to The Ohio State University. Some find their way as students at the undergraduate or graduate levels. Others become Buckeyes as faculty or staff members.
Gala Korniyenko's meandering path to Ohio State was unique. While working as a project manager in her home country of Ukraine, she was introduced to a massive open online course (or MOOC) offered by the Knowlton School of Architecture and the Office of Distance Education and eLearning.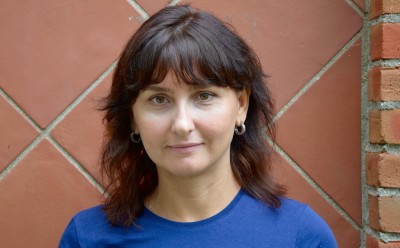 "It was my first introduction into Coursera and online courses in general. One of my friends is a specialist in open government and open sourcing, so I found out about this course from him," Korniyenko recalled. "It was fascinating."
The course was TechniCity, taught by Dr. Jennifer Cowley from Knowlton School and Dr. Thomas Sanchez from Virginia Tech. The open course discussed how technology can improve infrastructure planning, participation by citizens, healthcare, education, crime prevention, and environmental monitoring.
"We had about 20,000 students enrolled in the course and several of them, including Gala, engaged with Dr. Sanchez and myself by email," Cowley recalled of her first interaction with Korniyenko.
While she notes that the course content was interesting, it was Korniyenko's interaction with Cowley that motivated her from being just an online learner to an Ohio State student.
"I wrote to Dr. Cowley, and she replied to me! I know how busy professors are. She had so many students enrolled in the course, and she replied to me personally. It was a shock really. I can say that I changed my career because of this course and her."
Korniyenko's path to that career change wasn't as easy as she had hoped. She applied to become a Fulbright scholar, emphasizing in her application that she wanted to attend Ohio State. She received the scholarship but was assigned to the University of Kansas.
After moving to Kansas to complete her master's, Korniyenko continued her pursuit to become a Buckeye and seized another opportunity to get to Columbus. While completing her degree in urban planning at KU, she found out about the Edmund S. Muskie Internship Program which gives its recipients real-world experience related their graduate studies in the United States.
"I decided this was my second chance to get to the Ohio State University to work with Dr. Cowley," said Korniyenko.
The Muskie program had a list of professions that applicants could choose from, and none of them included Korniyenko's new chosen track of city planning. Not willing to let that deter her, she applied anyway and won. Korniyenko was now free to join Cowley and the Ohio State University as a summer intern in 2015.
Now Korniyenko is a doctoral student and graduate teaching assistant in urban planning under Dr. Cowley at Knowlton.
On her advice to those who haven't considered taking an open course, Korniyenko says: "Just imagine, I am from the former Soviet republic. How is it possible for me to be sitting in a small city in Ukraine, connecting directly with a professor in the United States? Online courses can open something for you that you never thought of before. For me, it opened up a new field."
The benefits for instructors are just as poignant. As Cowley explains, "I wanted to open myself up to experiences from around the world. For me, it was an amazing experience, to find people around the globe who were deeply interested in learning."
Open courses provide opportunities to impact many learners in diverse and personal ways. In this one open course, two corners of the world met together at Ohio State.
Interested in creating your own impact with an open course? Email moocs@osu.edu for more information on opportunities available.