Updated Canvas Adoption Timeline
You said hello to Canvas and you've started building…so what's next? We've revamped the Canvas Adoption Timeline to showcase the important dates you need to know for spring semester 2017: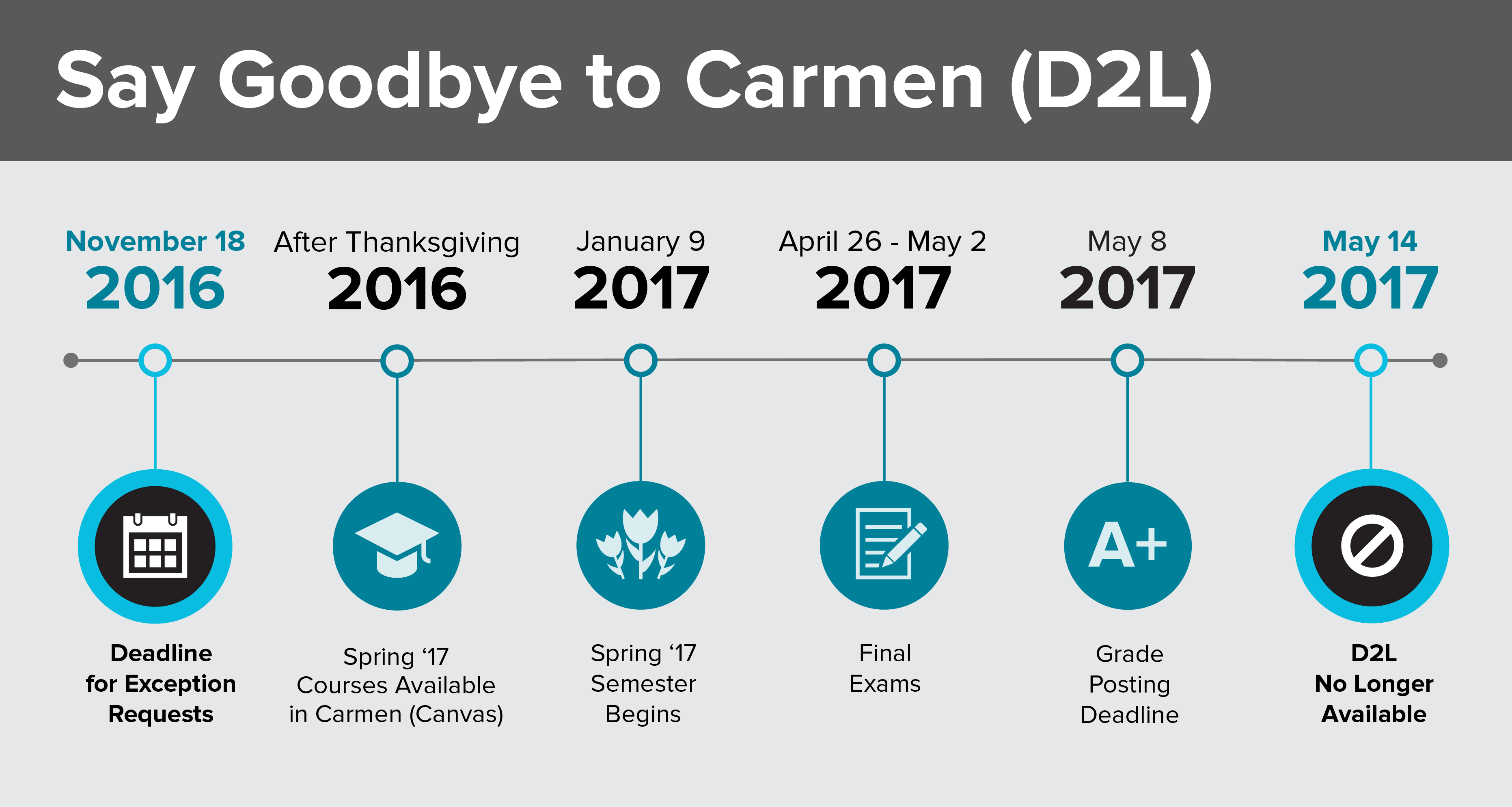 Deadline for Exception Requests – November 18, 2016 – If you feel your course cannot yet be made to work in Carmen (Canvas), you can request an exception to use Carmen (D2L) for spring 2017. This form must be submitted by November 18 so ODEE can review your request and leave you with ample time to build your course before the start of spring semester.
Spring '17 Courses Available in Carmen (Canvas) – After Thanksgiving 2016 – Towards the end of November, you will be able to create your spring 2017 courses at carmen.osu.edu. At this time, you will only have the option to create courses in the Canvas LMS. If you'd like to get started earlier, you can build a master course for spring.
 
Spring '17 Semester Begins – January 9, 2017 – This is the official start of the term and the first day of classes.
 
Final Exams – April 26 - May 2, 2017 – During this time period, students are completing final exams and projects for spring semester 2017.
 
Grade Posting Deadline – May 8, 2017 – This is the deadline for final grades for spring 2017 classes to be submitted in the Faculty Center. After you've posted your grades, take some time to be sure you've downloaded and saved all your course materials and student information from D2L, as the Ohio State community will no longer have access to this information as of May 14, 2017.
 
D2L No Longer Available – May 14, 2017 – Starting on this date, D2L will not be available to faculty, staff or students. During summer 2017, ODEE staff will have limited read-only access to D2L. After that, the Ohio State instance of D2L will be dismantled.