Tech Hub Swift Event Prepares Students for HackOHI/O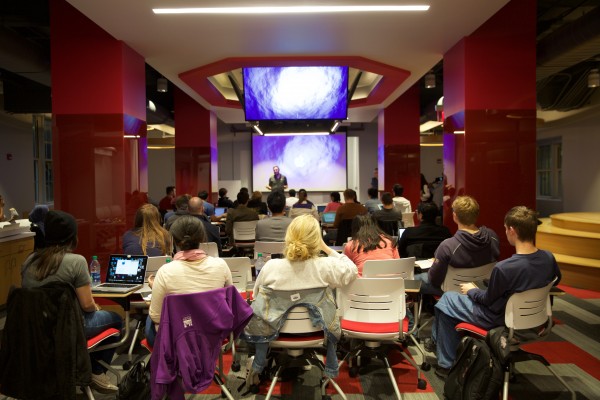 Fifty-three attendees, six large pizzas, and one innovative learning space came together for a coding workshop on October 26. Hosted by Tech Hub in Cambell Hall 100, the Swift™ workshop provided a hands-on introduction to the Apple™ coding language.
The idea for the Swift coding workshop was borne out of discussions with HackOHI/O around ways to lessen barriers to coding. The group's leadership team expressed interest in hosting events that taught introductory skills that students could apply later on during their hackathon experience. Swift was identified as a language that few had the opportunity to learn in courses, but many wanted to learn before the November 19 hackathon.
"93 percent of our registrants reported little to no Swift coding experience," Tech Hub Manager Chris Helman said. "We wanted to make sure this workshop provided students with an accessible platform to gain familiarity with the functionality of Swift."
Tech Hub saw this as an opportunity to bring their connections with Apple to students and provide a workshop that helped to fill a need on campus.
"Almost immediately after releasing our registration for the event, we realized there was a strong demand on campus for Swift coding basics" Helman remarked. "We ended up moving the workshop from Tech Hub to Campbell Hall 100 to accommodate as many participants as possible."
The two-hour workshop hosted by an Apple Engineer based in Toronto, centered around the foundations of Swift. He led the group through a brief history of the language and then helped the participants create a flashlight app for their phones. This simple app evolved throughout the workshop, as students added new features in the Mac client and ultimately transferred it to their phones. Once they were finished, the Apple engineer reviewed ways the skills used to create the flashlight could be transferred to more complex applications and took questions from the audience.
Of her workshop experience, participant Micaela Savage said, "I've recently picked up coding as a hobby, so I thought this workshop would be a good opportunity to hear more about Swift and its functionalities, which I knew next to nothing about. I was pleasantly surprised, as the presenter started right at the basics and was happy to make the experience accessible even to novice coders like myself."
Feedback after the event was exceptionally positive, with all surveyed participants rating the workshop as successful or very successful. Students expressed interest in future coding workshops that introduce new languages or provide deeper dives into Swift.
Tech Hub is excited to continue programming such as this Swift workshop in the coming year. While registration for HackOHI/O is now closed, we encourage interested parties to keep up with the event on November 19 and 20 via the @hackohio twitter. Up-to-date information about Tech Hub events can be found on their blog and twitter account.