Apply Now to Teach Your Course in an Active Learning Classroom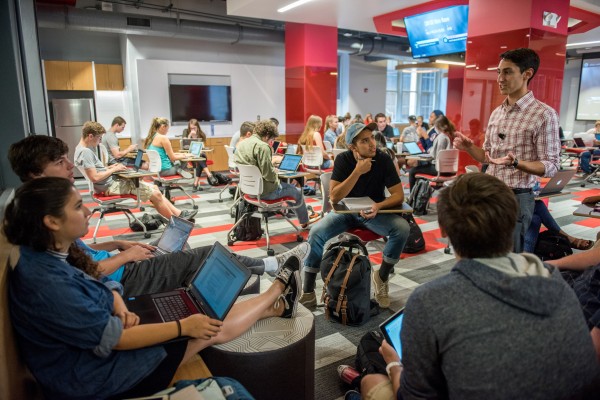 The Ohio State University's Innovative Spaces Program is a campus-wide initiative to foster transformational teaching and learning by encouraging greater focus on active learning pedagogy and more deliberate utilization of physical classroom spaces.
Courses accepted into the program are scheduled in an Active Learning Classroom, and instructors are connected with training, support and professional development opportunities.
Beginning autumn semester 2017, there will be six total Active Learning Classrooms available on Columbus campus, which means spots are open for more than twice as many courses to be accepted each term. Four new rooms are being added in the Enarson Classroom Building, and an older space, Baker Systems Engineering 285, will be renovated after spring term and no longer scheduled by the program.
Instructors can now also apply for the program's first Active Learning Classroom Community. Co-led by the University Center for the Advancement of Teaching (UCAT) and ODEE, this learning community is intended to deepen connections between instructors teaching in Active Learning Classrooms. Eight to ten applicants will be selected for the first cohort, set to begin May 2017. Community members will receive a $1,000 stipend for professional development, participate in a UCAT Course Design Institute, and meet once a month as a group to discuss their experiences teaching in Active Learning Classrooms.
Apply for summer or autumn 2017 courses by January 6, 2017. Head to the Innovative Spaces page to learn more.