ODEE Launches Online Readiness Tool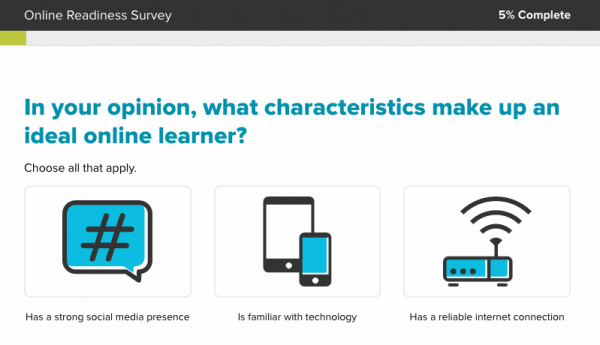 Online education opportunities around the country are expanding and come with their own distinct advantages and challenges. To help students everywhere gauge if they are prepared for the unique features of online courses, the Office of Distance Education and eLearning created the Online Readiness Tool.
The Online Readiness Tool was produced during a year of collaboration between ODEE and Clutch, an experience strategy and design agency. Created within the scope of the work done by the College Ready Ohio grant, the tool is designed to be a survey that give students a glimpse of the skills needed to be successful in an online course, and what they can expect from an online experience at The Ohio State University.
To make sure the tool would fit needs of current and potential online students, the ODEE team performed extensive user experience research. This included in-depth interviews with Ohio State faculty, staff, and students to determine needs from different perspectives. The research resulted in developing a set of narrative, behavior-based questions, as opposed to presumptive questions about student's motives.
In addition to researching and developing quality questions, the ODEE team tested the tool with two groups to ensure it worked as intended. The survey was beta tested through high school students from the College Ready Ohio partner schools and received positive feedback. Then, members of the ODEE Accessibility Task Force reviewed the tool to ensure it was available and accessible for all potential users.
The assessment is now available to anyone who might be interested in online learning, from those looking to advance their career through an online degree program, to secondary school students interested in taking courses at Ohio State. The survey serves as an introduction to what the university has to offer in terms of distance education, from Ohio State Online programs to general education courses available through College Credit Plus and the Ohio State Academy program.
"We hope the tool not only demonstrates our commitment to providing meaningful and engaging services to the university and the state of Ohio, but that it helps those interested further their educational goals," Ben Scragg, College Ready Ohio program manager, said.
Want to experience the tool for yourself? Take the survey and see if you are ready to begin your Ohio State education online.