Classrooms Upgraded During Break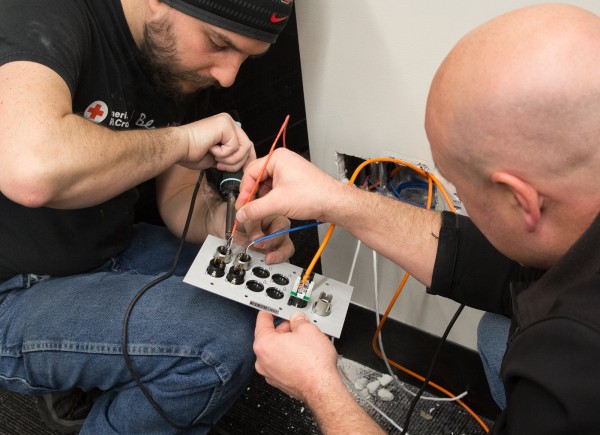 While classrooms are void of students during winter break, they are far from empty. The Office of Distance Education and eLearning's Learning Environments team has been hard at work updating 12 rooms for the spring semester and deploying nearly 60 new computers across campus. While the functionality of the rooms will change very little, they have been fitted with a mix of new podiums, computers, control systems, projectors, digital annotation devices and document cameras.
The planning of these type of upgrades starts with Learning Environments, the University Registrar, and Facilities Operations and Development. Together they set classroom standards and a vision for classroom design, including programs like Innovative Spaces. They identify rooms in need of technology upgrades, renovations and new furnishings at least one year in advance of doing the work. With more than 360 classrooms supported across campus, breaks are critical times for this team to make changes. During spring break and summer, they estimate making 35 room upgrades and creating four new active learning spaces for autumn semester.
Once updates are made and classes start, Learning Environment's Classroom Services team manages the support of the spaces. The team performs weekly maintenance tasks to assure equipment is continually functioning properly. They can help either address or route any issues with classrooms. That includes everything from AV support to broken furniture or room temperature. Learn more about Classroom Services scope of offerings at classroom.osu.edu.
Remember, when you require assistance in one of your classrooms, contact Classroom Services immediately at 614-247-4357 or classroomhelp@osu.edu.