Winter Kickstart Week Helps Instructors Kick off the New Year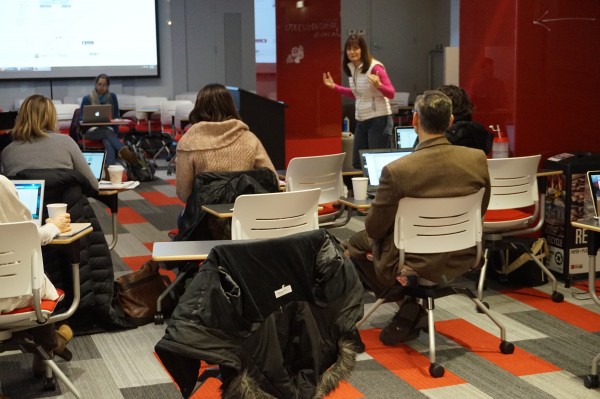 The New Year is in full swing and all of our resolutions are still fresh in our minds. One way instructors at The Ohio State University are able to accomplish their resolution of better online course creation and delivery is by attending the Office of Distance Education and eLearning's Kickstart Week, which takes place at the beginning of each semester.
Kickstart Week is four days of expert-led sessions and guided practice, tailored to sharpen participants' course design and development skills. The sessions are a perfect opportunity for those at the university who want to improve on their understanding of distance education and gain the skills needed for success. Presented by the Distance Education Learning and Teaching Academy (DELTA), spring semester's Kickstart Week focused on:
Course design, quality, and learning objectives
Assessments and academic integrity
Creating engaging online activities
Delivering online content
This round of Kickstart Week was the best attended yet, with participants from all over Ohio State's Columbus campus. Stuart Hobbs, Program Director of Research Education, Training, and Career Development in the Center for Clinical & Translational Science, attended Kickstart Week to gain experience on how to develop good online offerings for his office.
"We're looking to create a catalog of online offerings and I thought attending Kickstart Week would be a good place to start," Hobbs said. "I gained a good understand of best practices, as well as got an introduction to the people and tools needed to make this project a success."
Emily Feyes, a resident in the Preventive Medicine Department in the College of Veterinary Medicine, attended to gain a better idea of what goes into launching an online course and quality course design. She and her advisor, Dr. Armando Hoet, are working together to develop and undergraduate course on the epidemiology of zoonotic disease.
"From Kickstart Week, I learned a lot about the resources available to me from ODEE and Ohio State in general," Feyes noted. "I received great insight on how to increase student engagement and how to think outside the box with online course development."
The attendees agree that if you are looking to learn more about designing and launching an online course, Kickstart Week is the place to be. It is the perfect jumping off point to beginning your online journey.
Don't miss out on other ODEE events similar to Kickstart Week - subscribe to our eLearning events listserv and receive weekly updates of upcoming events offered for free to the campus community.