Volunteer Earns Free Course Credits for Granddaughter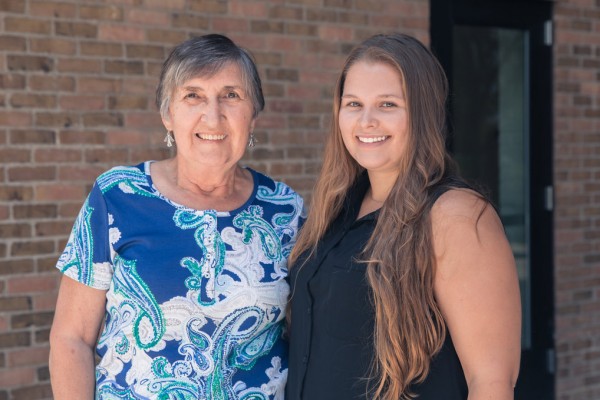 From bird watching to swing dancing, many senior citizens develop hobbies to connect with the world around them and to stay active. One hobby that 26.4 million seniors in the United States have in common is giving back to their community through volunteering. The Ohio State University created a way to further incentivize central Ohio senior volunteers by launching the GIVE Back. GO Forward. pilot program in Spring 2017.
GIVE Back. GO Forward. is coordinated through a partnership with the university and the Ohio Department of Higher Education. This program seeks to offer Franklin county residents age 60 or older the opportunity to earn a voucher for three undergraduate credit hours voucher for completing 100 or more community service hours at a designated community partner within one year.
Aligning with President Drake's 2020 vision, the program provides a new way to increase access and affordability for Ohio residents. So far, the program has enrolled over 100 volunteers who began their service hours this summer. One of these volunteers is Patricia Myers who completed her 100 hours at the Mid-Ohio Foodbank.
Myers began volunteering at the Mid-Ohio Foodbank in 2012 as a way to do something good for her community and herself. She is responsible for helping clients find the food they need, while keeping the bank's shelves stocked and organized.
"I first read about GIVE Back. GO Forward. in the Columbus Dispatch the day after the program launched," Myers shared. "I've been volunteering [at the food bank] for five years and thought this program was a wonderful opportunity. Volunteering and education are some of the most important things in my life, so this program was perfect for me."
Myers plans on giving the three credit-hour voucher to her granddaughter Stephanie, a senior at Ohio State studying early and middle childhood education. The voucher came a perfect time for her, as this semester she had maxed out the scholarships that were available.
"It feels great to know that my grandma's hard work will pay off and help me finish my education," Stephanie said. "We all know how expensive college is and how anything helps, and this voucher will do just that."
For more information on the GIVE Back. GO Forward. program, visit the program webpage.