Semester Resources at the Digital Union and Beyond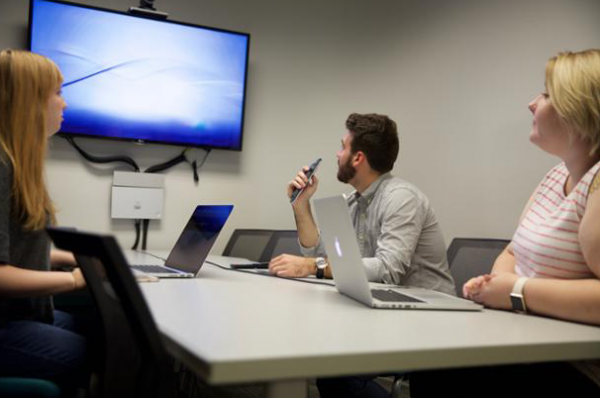 The start of the semester is upon us. With campus in full swing and classes gearing up our Digital Union student staff would like to share their own welcome to campus. Whether you're looking for help with software, a great place to study or just a color printer they've compiled some of their favorite Digital Union and campus resources to help you make the most of your semester.
Find a study spot
My favorite DU resource are the many conference rooms. These rooms are great for group study, solo study and many other things. I wish I would have known about them as a new student when I would spend what felt like hours hunting for a spot to study in Thompson.
- Hannah Baker
Get help with software
My favorite resource would actually have to be us, the Digital Union staff. I can't tell you how many times I've seen students and guests following ridiculously outdated instructions for software. With our know-how, we can not only teach our guests up to date ways to use a software, but we can often times show them different ways to get the same outcome, that are much simpler. 
We're students as well, so we have a good grasp on how much they might need to know. If it's a Photoshop class and they have no intention of using the software again, then we don't need to make them experts in the program, but rather teach them the easiest way of solving their problem. I have to admit, this is probably my favorite part of the job. I really enjoy taking a problem and then teaching the student (or staff member) infinitely easier ways of solving it, so they can use a similar approach for the future.
- Aaron Theesfeild
Access software for free
Ohio state offers the entire Microsoft Office collection for free. It is extremely helpful for new students since it is essentially required for most classes and it's a great money saver.
At the Digital Union we have computers with entire Adobe suite installed as well as a huge list of other software.
-Nick Cunningham
Computers poster printing and more
I wish I had known that the Digital Union existed my first few years of being here at the Ohio State University. With the printing, poster printers and computers, it is a very useful tool for students that know about it.
- Nick Cunningham
Have your own back-to-campus tips? Share them with us @TechOhioState on Twitter or Instagram.