Instructors to Present their Technology-Enhanced Teaching Ideas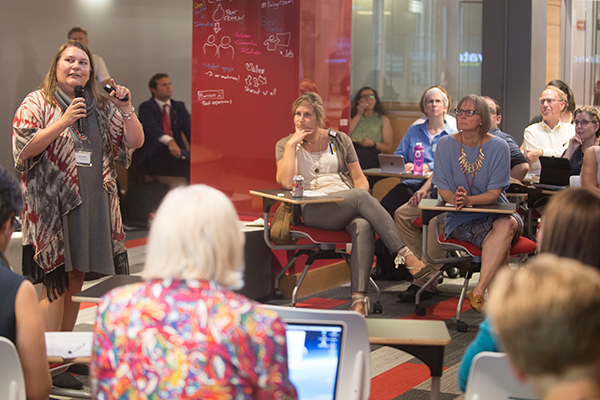 Seeking inspiration and tactics to freshen up how you're reaching your students? Then mark your calendar to attend the 2017 Faculty Showcase on Monday, October 30 at 11:30 a.m. in Campbell Hall 100.
Faculty Showcase is an annual fall event hosted by the Innovate conference as an interactive opportunity for instructors to learn how others are incorporating technology in their classroom.
This year's Faculty Showcase will focus on empowering and engaging our students through technology, access and learning environments. Your colleagues will share forward-thinking teaching styles in physical and online classrooms, ideas on how technology increases equity and access, and how open educational resources enhance students' learning.
This year's speakers include:
Lisa Cravens-Brown
Senior Lecturer, Department of Psychology
Dr. Cravens-Brown will discuss how you can incorporate active learning into your classroom, no matter what the physical environment may be.
Theodore Chao
Assistant Professor in Teaching and Learning, Mathematics Education
Dr. Chao will share his experiences using learning technology to increase equity and access in the classroom. 
Ana-Paula Correia
Associate Professor, Department of Educational Studies, Learning Technologies program
Dr. Correia will present how she gives students agency over their own learning in an online environment.
Jasmine Roberts
Lecturer, School of Communication
Roberts will discuss how the open educational resources she created and uses elevate the student learning experience.
Lunch will be provided. At the end of the event, you will have an opportunity to network with the presenters and other colleagues. There will be an exciting announcement about the upcoming Innovate conference, which is May 11, 2018.
Registration is open (and limited) for the 2017 Faculty Showcase.
You can also stay up to date on everything related to Faculty Showcase and Innovate by joining our mailing list and following us on Twitter.