Consider Using LabArchives to Organize Student Research and Coursework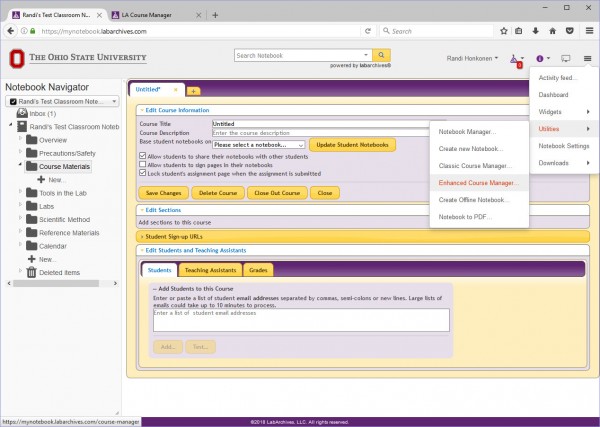 The electronic lab notebook software, LabArchives, helps you create structure for research notes, promote research integrity and securely record, manage and share your professional research data. Did you know that LabArchives can provide this same level of organization and flexibility for students in your lab classes?
Some instructors have chosen to use the Professional Edition of LabArchives to structure students' research notes into a larger, collective lab notebook. Take Assistant Professor Christo Sevov for example. He uses LabArchives with his students for research in synthetic organic chemistry.
"I've made a single notebook that is named 'Sevov Lab,' and each student has a folder within this notebook. This makes it easy for me to flip through everyone's research by simply using the sidebar menu."
Sevov and his students can use a variety of devices to look up results and make changes to reaction write-ups. From designated lab computers to personal mobile devices, students are able to quickly document the details of their reactions in the lab or on-the-go.
Instructors can also take advantage of the Classroom Edition of LabArchives. With this edition, you can set up a model or master notebook with folders and pages to describe your class assignments and lab expectations. Then, using the classroom administrative tools, you can upload your students, include your TAs and create copies of the master notebook for each student. With the Classroom edition, you and your assistants can access all student notebooks to grade assignments and provide feedback.
Tanya Nocera, Assistant Professor of Practice in the College of Engineering, is using the Classroom Edition in her upper-level lab courses. Her students' lab notebooks incorporate a wide variety of research content, from text and graphs to image and video attachments. Students also use tablets with stylus pens to sketch within LabArchives.
"I love how the electronic format enhances my students' creativity and allows them to document their experiments much more thoroughly than in the past," said Nocera.
To keep her students organized, Nocera uses a daily template for observations, notes, results, data interpretations and more. She also worked with LabArchives support staff to build a custom grading rubric widget.
LabArchives is currently working on an integration with Canvas. Faculty and staff at Ohio State have been able to provide feedback to help guide these efforts, and the new integration could be available as early as autumn semester! In the meantime, Nocera has found a process that works well for her and her students. Each student downloads a full PDF of his or her final notebook to upload in Carmen via an upload assignment.
LabArchives has a range of features to benefit our researchers in the field and students in the lab. Ohio State has made both the Professional and Classroom editions available to all students, faculty and staff. Both editions offer a full range of notetaking features, but the Classroom Edition includes additional functionality to meet the needs of your courses. Within a notebook, from the upper right hand hamburger menu, you can access the Classic or Enhanced Course Manager from the Utilities menu. This is where you'll find options for adding sections, students, teaching assistants and more.
Using LabArchives to move your lab from paper-and-pencil to tablet-and-stylus has many benefits. Nocera particularly enjoys the 24/7 access to student notebooks.
She said, "Perhaps my most favorite feature is that I and my GTAs can remotely log in to student notebooks anytime and anywhere to view their progress and leave them feedback."
Both Sevov and Nocera encourage instructors to experiment with LabArchives. Sevov said, "Be creative with how you use it. It's very powerful and can dramatically save time."
Questions about using LabArchives in your courses? Contact labarchives@osu.edu.