State Science Day Sparks Science Career of Ohio State Cancer Researcher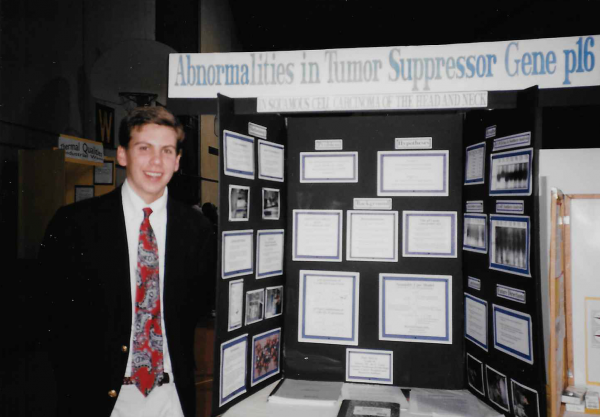 Thousands of Ohio students compete and showcase their independent research projects and compete for scholarships at State Science Day (SSD), presented by The Ohio Academy of Science. This year will mark the 71st annual SSD- the last 17 years of which have been held at The Ohio State University. 
Columbus native, Daniel Stover, M.D., is a State Science Day alumnus with a unique bond to The Ohio State University. 
Dr. Stover is a breast medical oncologist and translational physician-scientist, researcher, Assistant Professor of Internal Medicine and a member of the Translational Therapeutics Program at The Ohio State University Comprehensive Cancer Center – Arthur G. James Cancer Hospital an Richard J. Solove Research Institute. His research focus is resistance to therapy in breast cancer through genomic and computational analyses of patient samples. 
His multifaceted career and research embody what it means to be a life-long learner- and it all began with State Science Day.
Stover's interest in science was sparked in the early 90's when his older sister participated in science fairs. 
"She eventually made her way to State Science Day in middle school, and I got trucked around with them…it was interesting to wander around and look at the projects, it was impressive," Stover said.
In high school, Daniel Stover planned to follow in the footsteps of his older sister by creating a science fair project. After reading a Newsweek article regarding the challenges of cancer research, he was intrigued by the challenging topic of cancer and settled on it as the subject of his project. His parents connected him with a colleague of family friend, Jas Lang, a researcher working at Ohio State at the time.
"I was 15 years old; I didn't know what cells or DNA were, but Jas was really open to having me join his research lab," Stover commented. "Jas happened to study head and neck cancer… it just really fit and grew from there." 
Lang taught Stover everything from basic lab techniques to DNA, and he spent many weekends with him, looking at P16 mutations that were present in head and neck cancer. 
This research, along with a supportive mentor, led Stover to State Science Day.
"I was there instead of being a tag-along with my sister… but it was cool to share that, and I also met other kids who were interested in science." 
Stover went on to continue his research for four years in high school, attend State Science Days, and travel to Japan with other high school science scholars.
Following high school graduation, Stover did not attend Ohio State. He went on to study molecular biology at Princeton University, complete medical school and an internal medicine residency at Vanderbilt University and finish his post doctorate at Harvard Medical School. 
Nearly 20 years later, Stover returned to where it all began. After researching alongside Ohio State faculty, participating in State Science Days, and advancing in the medical field, Stover returned home. 
He now works one building away from where his science fair mentor, Jas Lang resided for many years. 
"Ohio State is an incredibly exciting place right now, it has a national reputation, with an upward trajectory and community support… I always felt strongly about giving back to where I'm from and it's one of the big reasons why I came back," Stover said. 
The Office of Distance Education at The Ohio State University is proud to continue to host State Science Day, and help inspire the lives of the brightest, young scientific minds.