Buckeye Biography Illuminates Alumna's Columbus Connections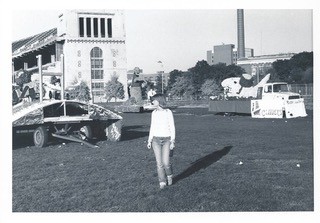 As Ohio State's sesquicentennial celebration continues, more of Buckeye Nation's memories and connections resurface as we celebrate Ohio State and Columbus history.
One way that history nuts have been getting involved with the universitywide celebration is with the free, online course—Buckeye Biography: 150 Years of Ohio State. 
But for one Buckeye in particular, there was more to explore than just the course. After earning the first badge for completing the online course, Judy Leddy soon realized that she was gaining more than just a badge.
Upon completing the course, Leddy shared how the course brought back many memories of her family's Ohio State history. 
The story begins when Judy, an Ohio State education major from the class of 1978, married Kevin Leddy '79, an Ohio State industrial engineering major. And Ohio State runs in the family, as Kevin's dad and brother were both Ohio State ceramic engineering graduates. Leddy's twin daughters also graduated from Ohio State in 2012, along with Judy's brother graduating from Ohio State with his B.S. and doctorate in physics.  
Now, you may think, that's not very uncommon…but the Buckeye family tree doesn't stop there.
Kevin Leddy's third great grandfather was Charles Leo Lesquereux, a Swiss bryologist (the study of moss) and pioneer of European and American paleobotany (the study of fossilized plants). After suffering hearing loss, he began working for his family watch business until he won a contest researching peat bogs. Around the same time, Lesquereux also became friends with Louis Agassiz, a Swiss-American biologist and geologist.  
When Agassiz went to Harvard University to teach, the Lesquereux family immigrated to America and stayed with Agassiz. Lesquereux was introduced to Asa Gray, a colleague at Harvard who told him that he needed to meet William Starling Sullivant of Columbus, Ohio. William Sullivant was the oldest son of Lucas Sullivant, one of the founders of Franklinton, Ohio, later renamed Columbus. 
Sullivant hired Leo Lesquereux to help him categorize mosses, so Lesquereux moved his family to Columbus. Lesquereux was also friends with Edward Orton and hired Orton to work on categorizing fossil plants in Ohio. Edward Orton, the first President of Ohio State was also a pall-bearer at Leo's funeral in 1806.
Leo supplemented his income with the F.A. and L. Lesquereux Watches and Jewelry Company at 59 South High Street in the Neil House, which is now the location of the Huntington Center in Columbus, Ohio. 
But the Columbus connections don't stop there! Kevin Leddy's second cousin also started Plank's Café and Pizzeria in German Village. 
"This course reminded me how much history we have with Ohio State and how much it means to us," Leddy said. 
While Leddy's family doesn't live in Ohio anymore, they still visit when they can and hope to make it back for Ohio State's Sesquicentennial Weekend in March 2020. 
Do you want to uncover some Buckeye history for yourself? There's still time to enroll in Buckeye Biography—don't miss out!