iOS 9.3 Improves Mobile Learning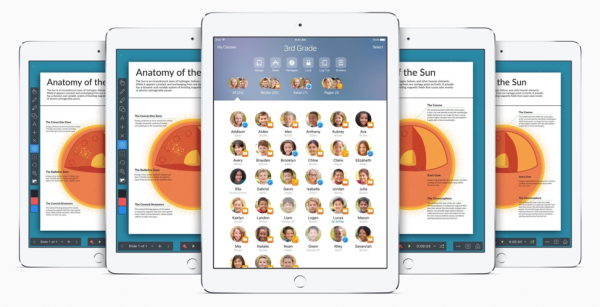 This year at Innovate, presenter Steve Kucinski  showed us the many ways that iPads are making classrooms more creative and accessible. They allow us to increase personalized interaction with students and tailor learning experiences to their needs. Students are able to collaborate seamlessly, incorporate mixed media into projects, and showcase their creativity; all while engaging with new technology. Mobile learning devices, he argues, offer increased versatility and engagement for teachers and 'open up doors for students and teachers to be more creative.'
While these ideas are appealing, implementation and administrative demands have been sore spots for many instructors.  Schools that cannot afford an iPad for every student run into software that limits personalization. Even if each student has an iPad, making accounts and resetting passwords can take time away from instructor engagement . iOS 9.3, released in early April, provides additional tools to make iPads more effective and remedy some of these issues.
So, What's New?
iPad Sharing
The biggest buzz surrounding this launch is the iPad sharing feature. This allows schools that cannot meet a 1:1 student-to-iPad ratio to still use iPad to enhance the classroom experience. Each student has their own account, and log in by clicking their photo ID and providing a password. The login process is even simpler for younger students who just have to remember a four-digit PIN login. The iPad will pull up their apps, books and documents allowing them to quickly jump into all their projects.
Classroom App
Technology has the ability to enhance the classroom experience, but in the wrong hands technology can also be distracting. The Classroom App helps eliminate those distractions. Instructors can remotely view student's screens, share student work directly from their iPad to the projector using AirPlay, and launch specific apps, websites or pages on every iPad in the classroom. Plus, when it's necessary, teachers have the ability to lock apps to keep students focused.
Central Hub for Admins
Want to create new accounts for students, teachers or admins or make volume purchases of books and apps? The Classrom app, which was released as part of the 9.3 update, allows schools to quickly and easily set up an iPad system that is monitored on a school or district-wide level.
Plus, the Classroom app offers something completely new – Managed Apple IDs. This allows student IDs to be created in bulk, and easily reset when students forget their passwords. This makes having accounts for individual students easier, and the learning experience more customizable.
iOS 9.3 makes iPads more accessible and simpler to implement for schools. But, as Steve Kucinski said at Innovate, "It's not about the device, it's about what you do with it." Check out Steve's entire presentation, and learn more about what you can do with iPads in the classroom.