ODEE Partners with UCAT on the Course Design Institute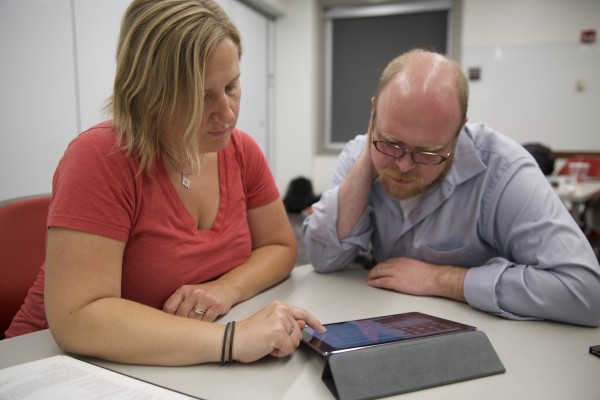 It can feel overwhelming searching for the right place to receive support when creating a course online. For instructors and instructional designers at The Ohio State University, there are groups that ease these feelings of stress and panic over course development. One of them is the University Center for the Advancement of Teaching (UCAT), who partnered with ODEE to help facilitate their Course Design Institute (CDI).
UCAT is a group within the university who seeks to support and advocate for all who teach at Ohio State. They help instructors approach their work in a scholarly and reflective way, engaging them in research on effective pedagogy. To help support instructors, UCAT presents a CDI every semester. This intensive five-part workshop provides instructors with hands-on guidance from staff, like the instructional designers in ODEE.
Together, the instructional design support team and participants focus on designing or redesigning a specific course. The CDI provides participants with the tools, time and support they need to create effective, student centered courses using backward design. The instructional designers and UCAT team assist in helping participants craft their courses, offering guidance to ease the process.
One participant during the fall 2016 CDI was Megan Fogel, a junior instructional designer in ODEE. Her goal was to develop a course centered around accessibility, universal design for learning, and how to incorporate both when building online courses.
"I wanted to create a training course for other instructional designers that would expose them to the ideas of accessibility and universal design for learning," Fogel said. "The course would be an introduction to these ideas and how to build them into your everyday work."
With the help of the workshop, Fogel is now finalizing her training course and preparing to share with the entire campus. She said the CDI really helped her understand how to build a course from a simple to complex level. They used activities, like building out their course using sticky notes, to help visual the course structure they were building.
"What I really enjoyed about this experience was the hands on activities where we were encouraged to break down our big ideas in an analog way," Fogel said. "The facilitators were there every step, helping us to develop course goals into objectives, into assignments, then into content."
Moving forward, Fogel is looking to launch her course on the ODEE Resource Center website early next year after a trial run with members of the UCAT and ODEE team. She hopes it helps instructors and other instructional designers understand the importance of accessibility and how to make courses accessible to those with disabilities.
"I would highly recommend anyone who is looking to build a course, but does not know where to begin participate in this workshop," Fogel said. "I learned so much and I know I will be able to take what I learned into my job every day."
Are you are looking for assistance creating or redesigning an online course? Visit UCAT's website to apply for the upcoming Course Design Institutes, both offered in-person and online.