Young Scientists Gather to Present at State Science Day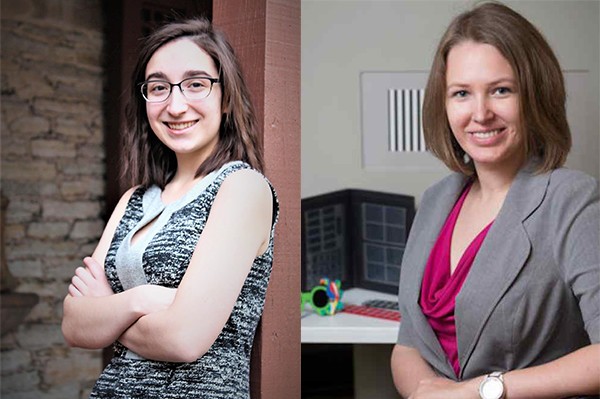 Jawaharlal Nehru, the first Prime Minister of India, once said, "The future belongs to science and those who make friends with science."
Future scientists, mathematicians, engineers, and other friends of science will gather in Columbus, Ohio, on Saturday, May 13 for the 69th annual State Science Day. This event, hosted at The Ohio State University, is the pinnacle of student-originated, inquiry-based science education in the state of Ohio.
In its nearly seven decades of existence, the Ohio Academy of Science's State Science Day has nurtured the scientific curiosity of more than 60,000 Ohio students in grades 5-12. One of those students is current Ohio State freshman Cella Masso-Rivetti. The Greenville Senior High School graduate first competed at the state level in eighth grade, and again her sophomore, junior and senior years of high school.
"State Science Day was always interesting because you're surrounded by the best and brightest in the state," Masso-Rivetti said. "There are a lot of smart ideas from around the state and it's really inspiring."
That scientific inspiration led Masso-Rivetti to continue her education in anthropological sciences. The lessons she learned as a young scientist are those she's carrying through her college career.
"Participating in science fairs and State Science Day gave me the opportunity to be creative, but also learn how to stay focused and driven. You have a goal and you have to work toward it. It's the same in college."
Those lessons Masso-Rivetti learned are similar to those learned by Dr. Catherine McDaniel, Associate Professor in the College of Optometry. McDaniel also started at her eighth-grade science fair and chose a career in the sciences.
"The entire science fair process prepared me for the college level. Understanding how to properly perform research and answering questions for the judges makes you think a lot more critically. Those skills are required in college."
State Science Day is the culmination of over 1,000 local and district science fairs hosted throughout the state. From a pool of 35,000 students who participate in those fairs, approximately 1,100 advance to the state level if their projects received a "superior" rating. At the state level, students compete for nearly 100 different awards and scholarships valued at more than $600,000.
The Office of Distance Education and eLearning events management team began to host and manage the event in 2002.
Months of questioning, researching, hypothesizing, and experimenting will culminate this Saturday for hundreds of students. Both McDaniel and Masso-Rivetti advise students to take advantage of the moment.
"Continue to learn from your experiences from the last fairs and take those judges' questions to heart," McDaniel said. "Have fun and meet someone new. There are people from all over the state with different life experiences you can learn from."
Masso-Rivetti concurs. "You've already accomplished something great by making it to State Science Day. Use the day to look around and talk to people who are judges, as well as others about their projects."
State Science Day begins Saturday at 8 a.m. in the French Field House, and concludes with an awards ceremony at 1:30 p.m. in St. John Arena. 
---
69th Annual State Science Day - By the Numbers
1,106 projects to be displayed
1,212 students presenting
328 schools represented
300+ judges