Four Ways to Achieve Your Semester Resolutions at the Digital Union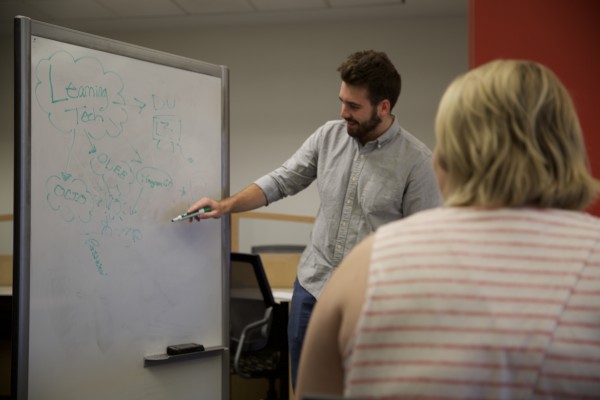 As classes start up this semester, you may be thinking about how your fledgling New Year's resolutions will fare when you return to campus. We know it can be hard to stick to your plans as assignments, midterms and group projects pile up, but we're here to help.
Check out some of the most common semester resolutions and how Digital Union locations across campus can make it a little easier to achieve them.
You resolved to:
Learn something new
If you are resolving to dive deeper into your course materials or learn new skills, Lynda tutorials can help. These online video tutorials cover a wide range of topics–from Java programming, to marketing strategy, to Photoshop. This can be a great way to try out a new topic you might consider studying in at some point in your college career or refresh your knowledge of a more familiar subject. These tutorials are free and available on all Digital Union computers.
Get ahead on your group projects
Don't let difficulty finding a place to meet stop you from starting group projects early. Meeting rooms at the Digital Union are schedulable and can fit most group sizes. Rooms feature HDMI and VGA (with audio) display inputs controlled by a touch-panel interface so you can display work and stay on task. They also provide power and accept wireless display access. Call or visit to reserve a room.
Expand your network
Video chats and informational interviews with contacts from other locations can be a great way to learn about your field, expand your professional network, and even get a job. However, finding a quiet, professional location to host these conversations can be difficult. Select Digital Union meeting rooms feature videoconferencing capabilities, making it easier to join conversations across the nation or the world. Call or visit to reserve a videoconferencing room.
Manage time more effectively
Do you have a two-hour gap in your schedule that you want to fill with something productive? When walking home isn't a good use of time, dropping by a Digital Union can be a great way to make sure you stay on track. All locations feature computers so you can save your laptop battery for later classes. Hagerty, Stillman and Prior Hall locations also feature USB charging stations, which means you won't have to run home to grab your charger if your phone loses power. With five locations across campus, there is almost always a Digital Union nearby. Check out all locations and make your long days a little better.
We look forward to the new semester and hope that these suggestions can help you achieve your goals this term. Learn more about the features at the Digital Union and follow us on twitter for more tips throughout the semester.